​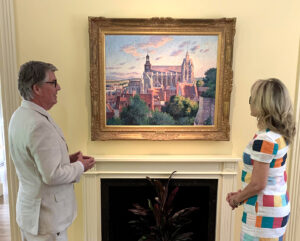 At Greg Thompson Fine Art we provide counsel to our clients who are looking to build an art collection which transforms their lives and their environment.
We help in every aspect of the art buying and selling experience including what to look for when buying original fine art, what to avoid and how to develop a collection that can change your life.
With over 30-years of experience in the art buying and selling business, we are here to help guide you in how to enrich your life with original fine art.
Some of the services we provide to our clientele include:
Art Collection Development
What to look for when purchasing original fine art and what to avoid.
Providing guidance and focus for your collecting and helping you hone your aesthetic.
Performing due diligence for purchasing and selling art so you can make informed decisions.
Assisting in your short and long-term collecting goals which strengthen your collection and make it more valuable over time.
Providing a comprehensive catalogue of your collection and regular market analysis for insurance and estate planning.
Alerting you to opportunities for acquiring important works of art in your field of interest before they come to market.
Art Collection Management
Fine art installation services for commercial and residential environments.
Helping with the logistics of your collection including: shipping, conserving, framing, curating, lighting, storing and insuring your art collection.
Fine art appraisal and fair market evaluation services for purposes of insurance, resale, estate planning and charitable donations.
Please contact us for a free consultation.