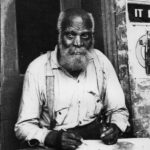 American (1854 – 1949)
Bill Traylor is one of the most celebrated Outsider artists of the 19th and 20th centuries. Traylor's drawings depict his experiences and observations from rural and urban life in pared down repeated symbols, shapes and figures. His work includes images of people, plants, animals and local landmarks that tell open-ended stories and document the oppression in the Deep South during his lifetime.
Born into slavery in Benton, Alabama, Traylor spent the majority of his life after emancipation as a sharecropper. He moved to the city of Montgomery in the late 1930s, where he began drawing and painting scenes culled from his memories. Shortly after his move, Traylor was noticed by artist Charles Shannon. Intrigued by Traylor's work, Shannon began to supply him with poster paints, brushes and drawing paper. A friendship soon transpired and in 1940, Shannon aided in the launch of the artist's first exhibition, Bill Traylor: People's Artist at the New South cultural center in Montgomery. Although not widely recognized in his lifetime, Traylor is now a highly sought-after artist and significant figure of American folk and Modern art. His unique figurative style highlights a lost era of the rural agrarian Southern United States and African-American life.
Traylor's work can be found in the permanent collections of some of the most prestigious museums across the country including the High Museum of Art in Atlanta, The Museum of Modern Art in New York, the Philadelphia Museum of Art, the Smithsonian American Art Museum in Washington, D.C. and the Milwaukee Art Museum.