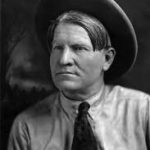 American (1864-1926)
Charles Russell was an artist and sculptor of the American Old West. Considered to be a leading figure of Western and Native American art, Russell's years as a cowboy were fundamental in his work as an artist. His firsthand experiences and intimate knowledge of the cowboy way of life and culture produced the distinctive realism that is characteristic of his style.
Born in St. Louis, Missouri, Russell was fascinated with Western life from an early age. He had little interest in school, and at the age of 16 his father funded his travel to Helena, Montana, hoping that the tough realities of the West would shake the romantic notions of it out of him. But instead, Russell became completely absorbed with the environment. In 1887, he turned down a chance to study art in Rome to spend the winter with the Blood Indians in Canada painting the tribes and their way of life. There he developed an overwhelming compassion for their plight. In 1888, Harper's Weekly published one of his cowboy paintings, and in the following years, his popularity as an illustrator increased. Russell's paintings of men and wild animals, pitted against tough life in the West, sold widely to Hollywood celebrities, oil rich collectors and others who liked reminders of the "Wild West." In 1911 he had a one-person exhibition at Folsom Gallery in New York, and in 1925 he was honored by the Corcoran Gallery of Art in Washington, D.C. with a special exhibition.
Notable collectors of Russell's work include: the Amon Carter Museum of American Art, Texas; the Art Institute of Chicago, Illinois; the Denver Art Museum, Colorado and the Fine Arts Museums of San Francisco.