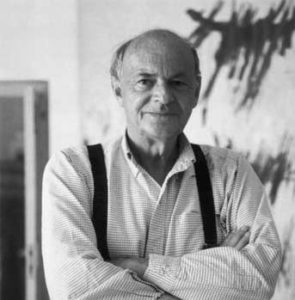 American (1928 – 2011)
Born in in Lexington, Virginia, Cy Twombly along with his contemporaries Robert Rauschenberg and Jasper Jones forged a new artistic language for the Modern art world. One built upon the shoulders of the Abstract Expressionist movement in the 1950's but expanding into what would become Contemporary art.
Twombly studied at the School of the Museum of Fine Arts in Boston and Washington and Lee University in Virginia but it was at the Art Students League in New York and later at Black Mountain College where he met and befriended Robert Rauschenberg that Twombly began to find his artistic voice. The two traveled together on a Museum of Fine Arts scholarship to Spain, Italy and Northern Africa for eight months between 1952-53 where Twombly fell in love with the culture, atmosphere, art, architecture, poetry, and Roman & Greek mythology. In seeing graffiti and symbols scrawled on the ancient walls of Rome, Morocco and Tangiers, Twombly derived inspiration which he would mine for a lifetime. His love for Rome was so deep that he would later move there in 1959 and remain until his death in 2011. The allegorical Gods and Goddesses of Roman antiquities which symbolized life and the human condition often found their way into the titles of his paintings, drawings and sculpture.
Twombly's work had an indelible influence on artists to follow notably Julian Schnabel and Jean Michel Basquiat both of whom were interested in the making of marks and symbolism in their art.
Twombly's work is include in some of the most prestigious museum collections in the world, including: The Museum of Modern Art; The Whitney Museum of American Art & The Metropolitan Museum of Art in New York City; the Tate Modern in London and the Menil Collection in Houston, Texas.