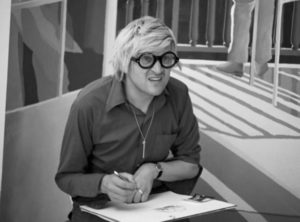 English (b. 1937)
David Hockney is one of the most important and influential British artists alive today. His ambitious output over the decades of photo collages, paintings, drawings, prints, works on paper, and mixed media are easily recognizable and play an important role in the cannon of Pop and Contemporary art.
Born in Bradford, West Yorkshire, England, Hockney attended Bradford Collage of Art and the Royal College of Art in London. After graduating from RCA in 1962, Hockney moved to Los Angeles, California and fell in love with America. He began painting swimming pools, bathers, the landscape as well as portraits of himself, friends, lovers and important art collectors in California. His vibrant use of color, simple gestural lines of the human form, nature and interiors harken back to the art of Henri Matisse, who the artist is fond of, but have a style all his own.
Hockney is still an ambitious painter and spends time in his studios both in California and England producing large scale and intimate paintings and mixed media works. In 2018, Portrait of an Artist (Pool with Two Figures) which is an iconic work by the artist, sold at Christie's for $90 million, establishing a record for the sale of a living artist at auction.
Collectors of Hockney's work include: The Museum of Modern Art, The Metropolitan Museum of Art, The National Gallery of Art, and the Take Gallery, London, UK.