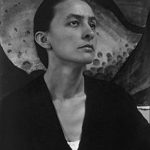 American (1887 – 1986)
Georgia O'Keeffe was a pioneer of American Modernism. Best known for her canvases depicting enlarged flowers, New York City skyscrapers, animal skulls and southwestern landscapes, O'Keeffe is known internationally for her boldly innovative art. A brilliant colorist, she created strong, vibrant works with colors that radiate with energy and vivacity.
Born in the town of Sun Prairie, Wisconsin, O'Keeffe decided by age 10 that she would become an artist and received instruction from a local watercolorist. She studied at the Art Institute of Chicago in 1905-1906 and the Art Students League in New York in 1907-1908. Under the guidance of William Merritt Chase, F. Luis Mora, and Kenyon Cox, she learned the techniques of conventional realist painting. The direction of her artistic practice shifted dramatically in 1912 when she studied the revolutionary ideas of Arthur Wesley Dow.
Alfred Stieglitz, an art dealer and internationally known photographer, was the first to exhibit her work in 1916. He would eventually become O'Keeffe's husband. By the mid-1920s, O'Keeffe was recognized as one of America's most important and successful artists. By 1929, she would spend the summers painting in New Mexico. She moved to Santa Fe in 1984, where she spent the remainder of her career and left a strong imprint on the town and its artistic landscape.
Collectors of O'Keeffe's work include the Metropolitan Museum of Art, the Museum of Modern Art, the National Gallery of Art and the Whitney Museum of American Art.