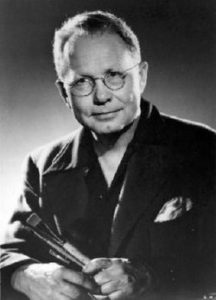 American (1891-1942)
Grant Wood is regarded as one of the top artists of American Regionalism. With his paintings of small-town life and the rural American Midwest, Wood's work is iconic to American culture. He began his artist career studying Impressionism and Post-Impressionism but soon abandoned the style after several trips to Europe. Wood became inspired by Dutch masters such as Jan van Eyck and Hans Memling, making the movement to a more realist style of painting with stylized forms that would become completely his own and instantly recognizable in the canon of American art.
Wood was born on a farm near the small town of Anamosa, Iowa in 1891. Soon after his father died in 1901, his mother moved the family to Cedar Rapids where Wood began as an apprentice at a local metal shop. In 1913, he enrolled at the School of the Art Institute of Chicago and performed work as a silversmith. In his later years, he became a great advocate of regionalism in the arts, lecturing throughout the country on the topic and solidifying his classical American image.
Selected collectors of Wood's work include the Art Institute of Chicago, Chicago, IL; the Metropolitan Museum of Art, New York, NY; the National Gallery of Art, Washington, DC; the Whitney Museum of American Art, New York, NY and Crystal Bridges Museum of American Art in Bentonville, AR.