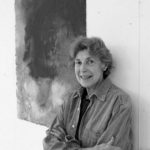 American (1928 – 2011)
Helen Frankenthaler was an American Abstract Expressionist and Color Field artist who played a major role in the history of postwar American painting. Through her creation of the soak-stain technique, she expanded the possibilities of abstract painting. She produced a body of work whose impact on contemporary art has been profound and continues to grow.
Born in New York City in 1928, Frankenthaler studied at the Dalton School under muralist Rufino Tamayo and also at Bennington College in Vermont. After her graduation in 1949, she studied privately with Australian-born painter Wallace Harrison and with Hans Hofmann. In 1950 she met art critic Clement Greenberg, who would become one of the biggest influences of her career. Frankenthaler was later married to fellow artist Robert Motherwell until they divorced in 1971. She served on the National Council on the Arts of the National Endowment for the Arts from 1985 to 1992 and received the National Medal of Arts in 2001. Frankenthaler lived and worked in Darien, Connecticut until her death in 2011.
Collectors of Frankenthaler's work include: the Museum of Modern Art, New York; the Metropolitan Museum of Art, New York; the Whitney Museum of American Art, New York, NY; the Amon Carter Museum of American Art, Fort Worth, TX and Crystal Bridges Museum of American Art, Bentonville, AR.