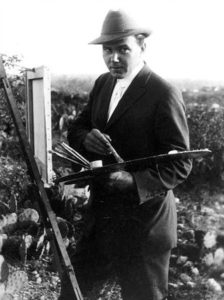 American (1882 -1922)
Julian Onderdonk was an American Impressionist painter during the rise of the movement in the United States. During his short life, Onderdonk's depictions of bluebonnet flowers and the Texas landscape grew the appreciation of not only Texans, but those who had never visited the Lone Star State. The atmospheric quality of his work and his ability to portray the intensity of southern light allowed Onderdonk to truly capture the essence of Texas' natural scenery.
Born in San Antonio, Texas in 1882, Onderdonk attended the West Texas Military Academy, graduating in 1900. At 19, he left home in order to study with the renowned American Impressionist William Merritt Chase in New York. Onderdonk spent the summer of 1901 at Chase's Shinnecock Hills Summer School of Art. After marrying and spending several years in the Northeast, he returned to Texas and began producing his most famous subject matter, bluebonnet landscapes. Collectors of note include: the Dallas Museum of Art, Museum of Fine Art, Houston, the Morris Museum of Art, and Forbes, New York.