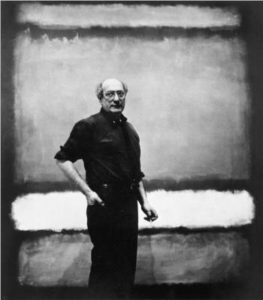 American (1903 – 1970)
Mark Rothko was one of the leading members of the Abstract Expressionist and Color Field movements in art history. His signature style of large, vertical works in which frontal, luminous rectangles seem to hover on the canvas atop a radiant background, allow endless variations of color and proportion and evoke a wealth of emotion. Rothko's transcendent color fields establish a one-on-one correspondence with the viewer, giving a level of intimacy and intensifying the effects of color.
Born in Daugavpils, Latvia in 1903, Rothko immigrated to the United States in 1913 and settled with his family in Portland, Oregon. After attending Yale on scholarship for one year, Rothko dropped out, and settled in New York in 1925. That same year, he began to study painting at the Art Students League under Max Weber, which would be Rothko's only formal artistic training. In 1928, at the time of his first group exhibition at a New York gallery, he formed a close friendship with Milton Avery, whose simplified forms and flat color areas influenced Rothko's art. The late 1940s and early 1950s saw the emergence of Rothko's mature style. In 1968, he elected to the National Institute of Arts and Letters. The following year Yale University awarded him an honorary Doctor of Fine Arts degree.
Selected collectors of Rothko's work include the Museum of Modern Art, New York City; the Art Institute of Chicago; the National Gallery of Art, Washington, D.C. and Crystal Bridges Museum of American Art in Bentonville, Arkansas.