MAURICE BRAZIL PRENDERGAST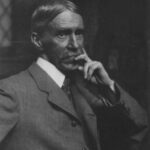 American (1858-1924)
Maurice Prendergast was one of the first Post-Impressionist American artists. From Boston, Prendergast studied in Paris during the art avant-garde between 1891-1895. He became friends with Edouard Vuillard and Pierre Bonnard who, along with the other Post-Impressionists, greatly influenced Prendergast's palette and style. Upon returning to America, he had his first one-man exhibition at the Art Institute of Chicago in 1900 and quickly rose to prominence in the American art world.
Prendergast then showed at the acclaimed National Arts Club in New York. He befriended and became a member of The Eight, fondly known as The Ashcan School, and was included in the groundbreaking Armory Show of 1913 in New York. Unlike his friends William Glackens, John Sloan and Everitt Shen who painted the grim and grit of the Bowery in New York, Prendergast choose to turn his attention to people at play enjoying idle time with friends and family in the parks and boulevards in and around Boston.
Prendergast's colorful and vibrant watercolors show the lively "impression" of people enjoying the parks of America and can be found in the permanent collections of many important museums across the country including: The Museum of Modern Art, The Metropolitan Museum of Art, The National Gallery of Art, The Barnes Collection, The Art Institute of Chicago and Crystal Bridges Museum of American Art.