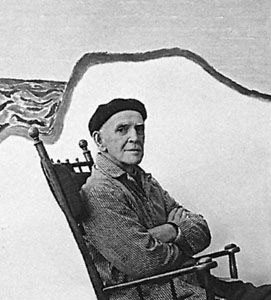 American (1885 – 1965)
Milton Avery was an important Modern artist whose work was pivotal to American abstract painting. Often thought of as an American Matisse, his poetic and creative use of drawing and color set him apart from more conventional painting of his time. Avery boldly used color and abstracted forms to deliver a unique vision of the American scene and the human figure.
Born in Altmar, New York, he moved to Connecticut in 1898 and later to New York City. Avery attended classes at the Connecticut League of Art Students in Hartford and the Art Students League in New York. Moving to New York in 1925, his wife Sally Michel supported the two of them by working as a commercial illustrator in the city so Avery could paint full time. Over the following years, he befriended other artists of the era, such as Mark Rothko, Adolph Gottlieb, and Barnett Newman, developing his increasingly abstract style of flat planes of color applied to the figure often seen in the landscape or in interiors.
Collectors of Avery's work include the Metropolitan Museum of Art, the Museum of Modern Art, the National Gallery of Art, and Crystal Bridges Museum of American Art.