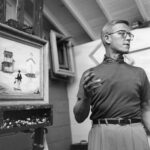 American (1904-1978)
Orville Bulman was a self-taught artist who was born in Grand Rapids, Michigan to a wealthy industrial inventor and manufacturer. Encouraged at an early age to take over the family business, the young Orville was more interested in pursuing a career in art. After graduating high school, Bulman traveled to Chicago, studied for a time at the Chicago Art Institute and worked as a cartoonist for the local newspaper. When not tending to the family business, Bulman continued his passion for art and honed his talents and gained acceptance into the prestigious Society of Independent Artists exhibition in New York in 1937.
Bulman began painting the rural South in the 1940s. His travels led him through Alabama, Louisiana and Florida. He fell in love with Florida and purchased a winter home in Palm Beach in 1946. He became inspired by Haitian art and culture and traveled there in 1952 to live with the natives and paint their villages and life much like Paul Gauguin. This body of work caught the attention of the art world and was featured in Newsweek and Life magazine. Bulman had his first one-man exhibition at Worth Avenue Galleries and sold out the entire show.
The French Surrealist painter Henri Rousseau was a big influence on Bulman. Upon his return from Haiti, he began creating paintings of the jungle with its rich flora and fauna populating them with lions, tigers and monkeys with a dream-like sensibility. Prominent residents of Palm Beach including the Duchess of Windsor, Marjorie Merriweather Post and Robert F. Kennedy began collecting his work and others were quick to follow. Bulman's paintings, especially his jungle scenes, are highly sought after by collectors of his art.