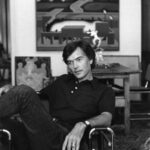 American (1941 – 1997)
Born in Hamilton, Alabama, Roger Brown was encouraged by his parents at an early age to be creative. He took art classes from second to ninth grade and won first place in a state wide poster competition in tenth grade. After graduating high school, Roger left the South but the South never left him. Said Brown, "I really think that my going in the directions I went comes from being a Southerner." Brown collected comic books, folk and outsider art at an early age and was a distant relative of Elvis Pressley. This rich Southern culture would inform his aesthetic when he enrolled at the Art Institute of Chicago in 1962.
While in Chicago, Brown became associated with the Chicago Imagists Group, a loosely affiliated group of artists who held themselves apart from the burgeoning Pop Movement which was developing in New York City at the time. Collecting would be a source of inspiration throughout Brown's life and he would often pick up art curiosities from other cultures on his travels to Mexico, Africa and Europe which found their way into his art.
Brown's kaleidoscope of vibrant colors, repeating shapes and rhythmic resonances are unique to the art world. His visually rich canvases are infused with religious, social, political and cultural commentary and seen through an Art Deco lens. Brown often uses weather as an allegorical backdrop for the larger physical and metaphysical forces that dwarf our human endeavors.
Brown's work can be found in the permanent collections of some of the most prestigious museums across the country including the Museum of Modern Art, the Metropolitan Museum of Art, the Whitney Museum of American Art, the Art Institute of Chicago and the Montgomery Museum of Fine Arts in Alabama.