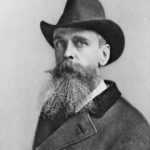 American (1837-1926)
Thomas Moran was an American landscape artist of the Hudson River School in New York and is known for his idealized paintings of the American West. He created colorful and highly atmospheric canvases that capture the beauty and grandeur of the West and earned him a reputation as the "American Turner." With his enormous, detailed paintings of the Rocky Mountains, Yellowstone and the Grand Canyon, he helped shape the visual identity of the American West in the United States and abroad which aided the development of our National State Parks and Western Expansion.
Born in Bolton, England, Moran emigrated with his family to the United States in 1844. In 1853, he apprenticed with a wood engraving firm and sketched designs on blocks. He also studied with his older brother, Edward, a marine and historical painter, whose studio he shared. While working as an illustrator for magazines including Harper's Weekly and Scribner's, he was invited to serve as the official artist for Dr. Ferdinand V. Hayden's 1871 Geological Survey Expedition to the Yellowstone Territory, marking a turning point in Moran's career. His paintings of Yellowstone's geysers, hot springs, canyons and cliffs played a major role in convincing Congress to make the region a national park in 1872. Moran's work became integral in sparking enthusiasm and interest in Western Expansion and during the 1870s, he continued to respond to the allure of the West by joining expeditions through the Rocky Mountains, Sierra Nevada, Yosemite and Teton Mountains. In all his works Moran strived to recreate nature colorfully, vibrantly and idealistically, while at the same time evoking the viewer's strong emotional response.
Notable collectors of Moran's art include: Crystal Bridges Museum of American Art, Arkansas; the Metropolitan Museum of Art, New York; the National Gallery of Art, Washington D.C. and the Autry Museum of the American West in California.