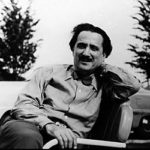 American, (1896-1977)
William Schwartz was born in 1896 in Smorgon, then a part of the Russian Empire. Schwartz attended the Vilna Art School when he was thirteen years old and studied there for four years before immigrating to the United States. After moving to the states, he enrolled in the School of the Art Institute of Chicago, where he studied fine arts. He supported himself through school with a successful career in music, as well as various other small jobs.
Following his graduation, Schwartz briefly pursued a career as an opera singer before returning to painting. He successfully debuted at the annual show of Artists of Chicago and Vicinity. His works have made their way to numerous exhibitions around the world since his debut. His work, which ranged from oil and watercolor to sculpture and lithography, exhibited dream-like symbolism and abstraction, which shocked and perplexed its viewers. Schwartz painted Regionalist work during the Great Depression on the payroll of the Federal Art Project. This included depictions of the countryside and the lifestyle of rural America. In the 1940s, he returned to the influences of European surrealism and painted with great abstraction and biomorphic forms.
Many of his works are included in the permanent collections of the Art Institute of Chicago, San Francisco Museum of Art, Dallas Museum of Art, Pennsylvania Museum of Fine Arts, Philadelphia, and many others. His works have also been displayed at the Museum of Modern Art, the Metropolitan Museum of Art, the Whitney Museum, and numerous other museums and important private collections.