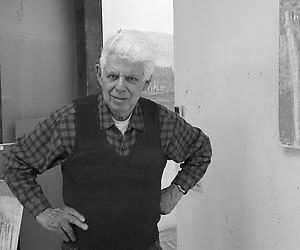 American (b. 1927)
Wolf Kahn is an important Modern artist in the canon of American art history. His vivid abstract paintings are based on the concept that opposite color values create a sense of balance and harmony through contrast. Kahn's importance in painting is emphasized by his ability to blur the confines between picturesque landscape and painterly abstraction. His use of color and the brilliant chromatic landscapes and nature scenes he creates, mark him as one of the most prominent colorists working in America today.
Born in Stuttgart, Germany in 1927, Kahn immigrated to England as a young man and then moved to New York in 1940. He graduated from the High School of Music & Art before spending time in the Navy. Using funds from the GI Bill, Kahn studied under the renowned Abstract Expressionist Hans Hofmann. After working as Hofmann's studio assistant, he enrolled in the University of Chicago in 1950 and graduated a year later with a Bachelor of Arts degree. His experience with Hoffman helped to inform his use of color.
Selected collectors of Kahn's work include the Art Institute of Chicago, Chicago, IL; the Metropolitan Museum of Art, New York, NY; the National Gallery of Art, Washington, DC and the Museum of Fine Arts Boston, Boston, MA.